Flume X Chet Faker - "Drop The Game"
[Electronic]
Wenn sich die beiden Australier Flume und Chet Faker zusammentun, kann man eigentlich davon ausgehen, dass am Ende immer feinstes Material bei heraus kommt. So auch geschehen bei ihrer letzten Kollaboration für die Single "Drop The Game". Seit heute gibt es zu dem Song auch noch ein nicht weniger schönes Video, bei dem man dem aus Brooklyn stammenden Tänzer Storyboard P, nachts auf einer einsamen Straße, bei seinen Moves zuschaut.
"After working together on "Left Alone" previously, Flume & Chet Faker are back together. They have released the lead single ahead of their collaborative Lockjaw EP that is due out November 26th here in America."
[via sirensofdecay]
Oddisee - "Own Appeal"
[Hip Hop]
Der aus Washington stammende Rapper Oddisee hat vor kurzem das Video zum Track Own Appeal veröffentlicht, welcher auf seinem letzten Mixtape Tangible Dream zu finden ist. Für den Song verwendete er das selbe Sample wie Marcelo D2 bei "1967", einen meiner Libelingstracks des brasilianischen Rappers. Beide Videos findet ihr unten nach dem Jump.
"With two new projects out now, Oddisee has quite a busy promotional trail ahead of him. Today we take another look at his mixtape Tangible Dream with a set of visuals for the cruising standout" Own Appeal"."
[via PotholeinmyBlog]

DJ Koze - "Don't Lose My Mind"
[Electronic]
"Don't Lose My Mind" von DJ Koze's letztem Album Amygdala zaubert mir jedes mal ein breites Grinsen in meine Fresse wenn ich ihn höre. Ich hoffe euch geht es genauso. Also steckt die Kopfhörer rein, geht raus und lasst euch von den letzten paar Wintersonnenstrahlen küssen.
All-Time Favorite:

Toots & The Maytals - "54-46 Thats My Number"
From the Single:
54-46 That's My Number [1968 // Beverly Records]
Genre:
Reggae
James Blake - "Life Round Here" feat. Chance the Rapper
[Electronic/Hip Hop]
James Blake präsentiert uns das Video zu dem bereits vor einiger Zeit erschienenem Remix "Life Round Here". Die Original Version ist auf Blakes letzem Album Overgrown zu finden, für den (besseren) Remix steuert der Chicagoer Emcee Chance the Rapper ein paar Zeilen zum Song bei. Das nun veröffentlichte Video wurde vom Presigekrönten Regisseur Nabil Elderkin in England gedreht.

"You Need To Hear This has the official video for the new single "Life Round Here", a collaboration between James Blake and Chance The Rapper. The video, shot entirely in black and white, tracks Blake and Chance as they cruise in a lowrider through an eerie forest inhabited by stallions and Somalian pirates."
[via Youtube]
John Lennon X Mick Jagger
Roundup: Philadelphian Beatmaker Knxwledge
[Hip Hop/Electronic/Jazz]
Schon lange bin ich ein Fan des amerikanischen Beatmaker's Glen Boothe alias Knxwledge, in meinem Blog vertreten war er aber noch nie. So geht das natürlich nicht und desßhalb hab ich euch mal wieder eine kleine Soundcloud Playlist mit meinen Lieblingstracks, des aus Philadelphia stammenden Produzenten, zusammengestellt. Mein kleines Soudcloud Roundoup findet ihr unten nach dem Jump. Auch sehr zu empfehlen aber leider nicht bei Soundcloud zu finden ist sein Beat über einen Freestyle von Kendrick Lamar mit dem Titel nokoreus.
"From Philadelphia this young beatmaker has been bubbling beneath the surface in the virtual world and has quickly made it onto the playlists of global radiomixes. He is a proven standout amongst the new wave beat generation. His captivating sound is a blend of true musicianship of great legends such as Miles Davis and hip-hop breakbeats all wrapped into one."
[via Discogs]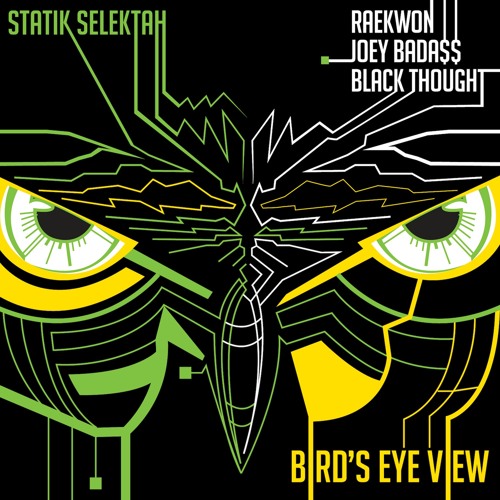 Statik Selektah - "Bird's Eye View" feat. Raekwon, Joey Bada$$, Black Thought
[Hip Hop]
Wu Tang (Raekwon), Pro Era(Joey Bada$$) und die Roots (Black Thought) vereint auf einem von Statik Selektah produzierten Beat, da müsste eigentlich jedem Hip Hop Fan das Herz auf gehen. Da ist es dann auch egal, dass ich euch das Ding schon vor Monaten präsentieren wollte, meine Vergesslichkeit das aber mal wieder verhindert hat. Na ja besser spät als nie wa.
"Statik Selektah assembles a lyricists dream team with Joey, Raekwon and Black Thought for his Extended Play single, "Bird's Eye View." All three emcees go off, as you'd expect, but umm no bias, that last verse is somethin' serious. From any view (bird or otherwise) this is a win for hip-hop."
[via okayplayer]
Ben Pearce - "What I Might Do" // Jamie XX - "Far Nearer" (Kilter Remix)
[Electronic]
Dem Hit What I MIght Do von Ben Pearce haben sich bereits unzählige Künstler angenommen. Um so schwieriger ist es für die Künstler mit der eigenen Version aus der Masse herauszustechen. Genau das ist dem Australier Kilter mit seinem entspannten Remix des Tracks aber gelungen. Und auch seine Version des Jamie XX Songs Far Nearer kann sich hören lassen.
"This is one killer mix! Ben Pearce's 'What I Might Do' has been given the Kilter Remix treatment and this track embodies what the sound of 2013 is all about.  Stunner track and stunner mix."
[via yourmusicradar]
Live Lounge [30]
Kanye West X The Roots - "Bound 2" feat. Charlie Wilson

All-Time Favorite:

Edwin Starr - "War"
From the Album:
War And Peace  [1970 // Motown Records]
Genre:
Soul

Photo: Guy Catling
Hodgy Beats - "Heart of the Titty"
[Hip Hop]
Einige von euch werden wahrscheinlich Jiggas Verison von "Heart of the City" kennen. Vor ein paar Wochen hat auch Hodgy Beats ein paar Zeilen auf den Beat geschrieben, der Bobby Bland's Soul Klassiker sampelt und  von keinem geringeren als Kanye West stammt.
First thing I noticed about Hodgy Beats version of Jay-Z's classic "Heart of the City" is the title, I mean "Heart of the Titty?" I sort of chuckled at it, but Hodgy rips this Kanye produced track pretty well and although the song title still shows immaturity, his flow and rhymes are continuing to improve with each release. There has been no mention of where this song will end up or if it was just a random released for fans, but for now and enjoy below.
[via ohsofresh]